The Chinese artist and activist Ai Weiwei says that his large sculpture Arch (2017), which was unveiled in Stockholm this week, takes on extra resonance in the wake of the war in Ukraine. The work, which stands outside the Nationalmuseum, is a 40ft tall, cage-like structure indented with the shape of two human figures whose silhouettes are joined. It will be on show outside the museum for a year and then be relocated to a permanent site elsewhere in the city.
The piece was first shown in New York in 2017 under the arch of Washington Square Monument. "At that time, it was about racism and the global refugee crises caused by regional insecurity. Since then, we have collectively experienced the pandemic, gone through isolation, and witnessed how vulnerable life is. Now, the war between Russia and Ukraine has forced five to six million people to flee their homes," Ai Weiwei tells The Art Newspaper.
"The conflicts between two superpowers, China and US, approximate a cold war; issues of energy, environment, and famine could cause even more humanitarian crises. Our world is more uncertain and unstable than any other time during the previous half a century. Against such a backdrop this work is once again a warning and reminder," he says.
Ai Weiwei was inspired by Marcel Duchamp's design for Gradiva gallery in Paris launched by the Surrealist pioneer André Breton in 1937. "In Duchamp's work, the silhouette of two figures steps in a glass door entranceway, and in my work, it is a cage. It's more relevant to us as we all face the challenge of walking out of the cage of our thoughts, life conditions, and wars, to enter the state of peace and health," he says.
Arch is backed by Brilliant Minds, a foundation that organises an annual conference in the Swedish capital, a self-styled "Davos of the creative industries". Brilliant Minds was established in 2015 by Daniel Ek, the founder of Spotify, and the entrepreneur Arash Pournouri.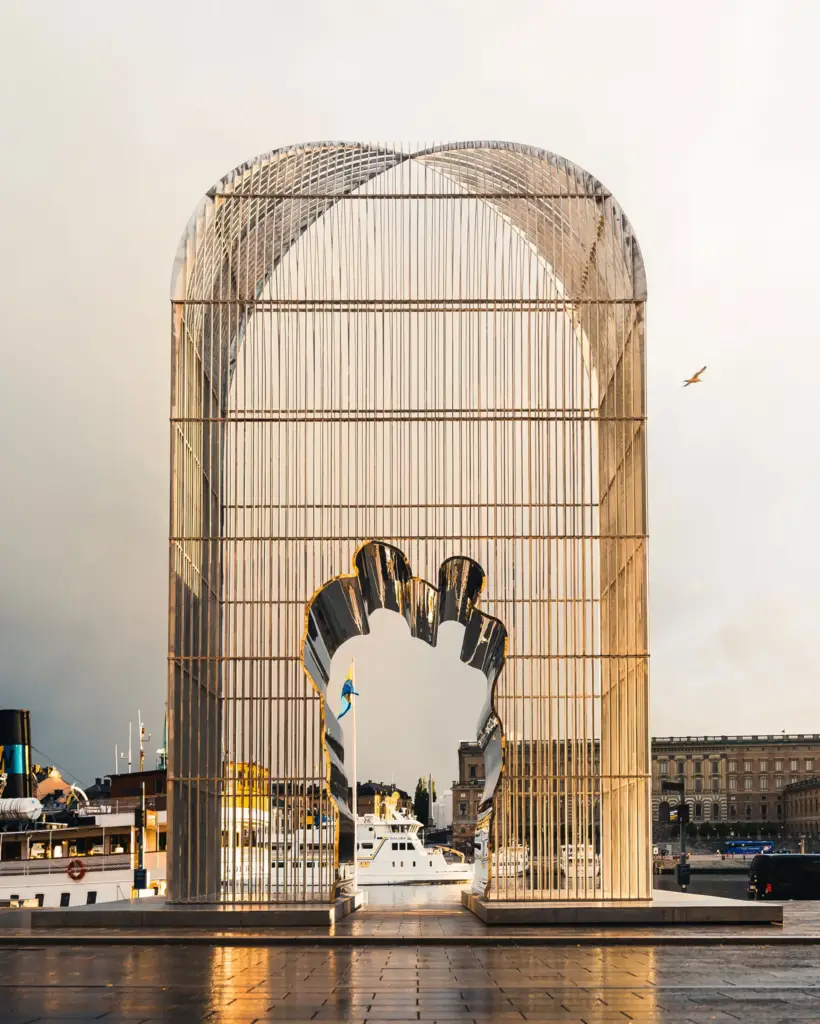 Ai Weiwei is among the speakers at this year's annual gathering. "Arch is the first iteration in a new series of public cultural exhibits that Brilliant Minds has committed to supporting in Stockholm over the next five years," says a company spokeswoman (details to be announced).
Referencia Bibliográfica: